Tatts Group Limited merge with Tabcorp Holdings Limited
$8.3 billion was proposed for the great merger deal of bookmaker, the Tatts Group Limited and Horse-race betting giant, Tabcorp Holdings Limited in Australia. The mega-deal could be finalized by December after the local rival CrownBet dropped its long-running competitor for the deal.
The union was announced in October 2016 and is said that it will create a new entity and offer a wide range of sports betting, keno, lotto, and gaming services. There have been a lot of disapproval before the deal was confirmed. The disapproval was from CrownBet and Racing Victoria Limited, the Australian Competition and Consumer Commission and Racing.com. However, the deal supposedly received its final approval from the Australian Competition Tribunal and is going to be put to a vote before the Tatts Group Limited shareholders in December.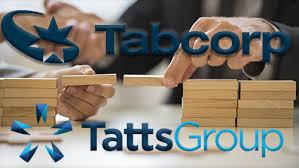 Tatts Group Limited – CrownBet against the Deal
CrownBet feared being taken out of the local horseracing market. The bookmaker also threatened to take its competition of the planned merger to federal court for a judicial review. However, it later decided that a merger might be the best.  The deal means that there is an agreement that will see it gaining access. This is to the live horseracing streams broadcast by Tabcorp Holdings Limited Sky Racing television channel.
CrownBet is not against the merger of Tabcorp Holdings Limited and Tatts Group Limited. The bookmaker will also not interfere with any implementation of the merger.
The live stream deal is anticipated to give CrownBet access. Acess to pedigree and harness horseracing action, more than any Australian corporate bookmaker. Although, it does not cover the New South Wales state of Australia.
Tabcorp Holdings Limited and Tatts Group Limited plan to complete their merger on the 22nd of December, subject to shareholders approval and a favorable reaction from the Australian Competition and Consumer Commission (ACCC).