Know Your Online Keno Rules
Online Keno is one of the most popular online gambling games. It is easy to learn and just as easy to play. Keno is like other easy casino games, like lottery and bingo.  Players have the opportunity to win large amounts of cash when they place small bets.
We at Jackpots Casino have compiled this gambling guide to help you understand the rules of Keno. Without rules, it won't be easy to play Keno and things can get complicated. Rules are there to make the game playable and help you win!
How to Play Keno
Check out the steps below on how to play online Keno:
1st step – get a Keno card, the card has numbers, 1 to 80 that match the numbers on the Keno machine.
2nd step – use your mouse to make your selection. Every number selected is called a Keno spot. The Keno card has eight rows and ten columns of numbers.  Keno cards are different; some allow you to choose up to ten numbers while others allow you 20.
3rd step – select the amount of money you would like to bet. You are also allowed to choose the number of games you want to play.
4th step – now you can submit your keno card by clicking on the send button.
5th step – click play and watch the Keno machine randomly choose 20 Keno balls.
6th step – check if you have won and declare your winnings.
Keno Payouts
Online Keno is such an enjoyable game and the payouts are equally great. Players should also keep in mind that they don't have to bet big to win big. A simple bet can make you a millionaire. The game can be played repeatedly. Most players are used to the traditional way of things; as they prefer watching the game on the television. Online Keno is convenient as players can enjoy it where ever they go.
Keno rules for every player
Keno has been in existence for many years and to date, it is still one of the best and most played gambling game. Players across the globe still enjoy the game and the odds of winning.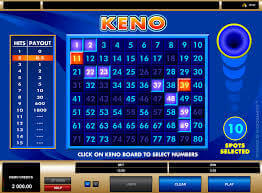 Keno Faqs