Online Poker
Traditional casino poker has been around for many years, but online poker made it a worldwide gaming phenomenon. Casino players caught the online poker bug from the onset and players have had the best time trying their lucky hands at this game, with many winning quite generously.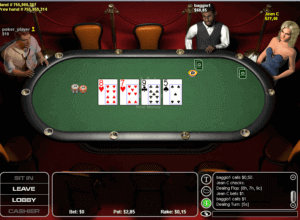 Top Online Poker Casinos
How to Find the Best Online Poker Casino in 2018
Looking for the best online video poker experience? You will need to start by selecting the best online casino. Try out the online casinos listed on our site. We have reviewed them for quality. Once you have located your number one online casino, visit their website and sign-up for an account with them. You can opt to play free online poker to learn the game and refine your skills, or go ahead and deposit some funds into your casino account to start playing.
A History of Poker
Gamblers have been toying around with poker for centuries, long before the idea of playing for money came about. Just how long the game has been around exactly, is a difficult one for anyone to answer. There have been games over the years with many similarities to poker that may have inspired the game. These games include a French game named Poque, another called Primero from the 16th century, and a British game called Brag which possibly came from an earlier game known as Brelan or Primero. A lot of these games incorporated the 'bluff' just like poker.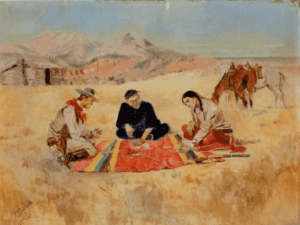 It is believed that these games, in one way or another influenced the Poker game that we know today, which only started getting popular around the 1800s. Since it entered the gaming industry, it has gained popularity dramatically, winning players over from all around the world. With the invention of Video Poker, thanks to a man known as Si Redd, this became especially so. Video Poker made its mark from the 1980s. Then online casino gaming came along around 1994, and took over some of the playing fields, and driving the popularity of poker even further with online poker.
What Is Online Poker?
In basic terms, online poker is a poker game played over the net. It is a virtual version of the very famous Video Poker game that has been played for years around the globe. It is based on a 5-card draw game, where the player is given five cards after placing a bet, with the opportunity of exchanging one or more cards with new ones from the deck. To win the player's cards must match the winning card combination as shown in the pay table, and given the strength of the player's hand, the payout could be higher or modest.
Playing Rules of Online Poker
Betting goes in a clockwise direction. (Called a bet)
Calling, matching a bet which was made by another player, may only be done when there is a current bet in that round. (Called a call)
If there is a bet already on the round, the player may match the bet and add to it, or raise.
If a wager hasn't been made in the round yet, a player may check.
Online Poker or Video Poker?
Video Poker and Online Poker are the same when it comes to gaming rules, winning combinations and such. For example, on both, the player makes a bet between 1 and 5 coins and is then dealt 5 cards. The player chooses which of the cards to keep and which to discard. The machine or dealer then replaces the discarded ones with new cards, and the game continues from there. However, you may be wondering what the difference between Online Video Poker and the traditional Video Poker is.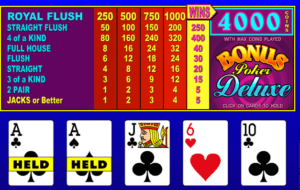 Differences between Online Poker and Traditional Poker
Here are some of the dissimilarities:
With Live Video Poker, the player, being surrounded by other players, watches their body language and facial reactions. Whereas in Online Video Poker, the player's focus is more on the (virtual) opponent's reaction time, betting pattern, fold and flop percentages, speed and many of the behaviors that are critical in poker. Keen poker players love the challenge of learning this somewhat new way of playing and succeed at it.
Online poker is cheaper to play than live poker since you need not leave your home to travel to a land casino. Also, you need not tip the dealer, and other casino employees, or spend money on food and beverages.
Online video Poker has a lower rate of play than Live Video Poker. With live video poker, the dealer spends a bit of time collecting, shuffling and dealing the cards after every hand. Online video poker shuffles and deals cards instantly and counting chips is quick too.
Types of Online Poker
Deuces Wild – is fast-paced and stirring. Two in this game serves as a wild card.
Joker's Wild – unlike others, includes the Joker, which fully substitutes other cards to make the player's hand stronger.
Jacks or Better – also called draw poker, is the most common, paying out from a pair of jacks. Better cards mean better payouts, from 6 to 9 times the bet
All Aces – is a more traditional version of Video Poker. The aim is to hit four aces to win.
Play Online Poker in 2018
Online Poker is one of the favourites among both online casinos and players. So finding the best online casino offering the best online poker may sometimes feel like finding a needle in a haystack. So we believe you will find that our quick tips make the task much simpler, here we go: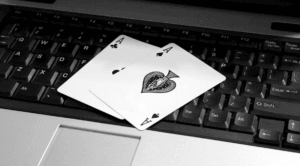 Begin by going through our selection of online casinos. We have reviewed these both according to industry standards and our experience with casinos and have narrowed it down to the ones we trust the most.
Decide which one of these online casinos suits your gaming needs best and sign-up for an account with that casino. The casino will guide you through ways to play like choosing between Free Play and Real Money gaming Play, Download and Instant play.
Select the type of online poker game you want to play. Read through the tips and strategies of that game. Free Play at this stage will help you learn the tricks before playing with real money.
Have plenty of fun!
Tips and Tricks: Online Poker for Players
As you probably know, gambling is more a game of chance and luck than anything else, even with Online Poker. However, there are ways to better your chances at winning by decreasing the house edge. This is what keen casino players relish about it. So check out the following tips and tricks to help your gameplay out:
Choose a game you are familiar with when playing for real money. You wouldn't want to lose out because you didn't know what you were doing. Any games you have not tried before, or haven't gotten comfortable playing, rather play the free version, until you gain some confidence.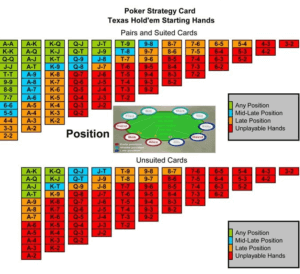 Get very familiar with the rules and winning card combinations of online poker. This way you know what you are gunning for when playing. You will also be able to tell early enough if your hand is too weak or if it's promising enough.
If you do feel your hand is too weak, do not hesitate to discard your cards. If you are confident that they give you a winning chance, then stand on them.
When playing a progressive jackpot online poker, be sure to place the max bet. You need to bet the maximum possible to actually claim your jackpot should you win.
Take preference to holding a low pair than holding one high card.
We recommend that you don't attempt to get a flush by breaking a straight flush. For instance, you may be tempted to give up a card that doesn't complete a flush hoping to get one that does. This is a risky move.
Online Poker Hands
Below are the standard or traditional poker hand types.
Royal Flush: the same suit of A, K, Q, J, 10.
Straight Flush: 5 cards in counting order, of the same suit, e.g. 6, 5, 4, 3, and 2 all clubs.
Four of a Kind: all 4 of the same card rank, plus one side card.
Full House: Three of the same kind cards, plus another 2 cards of the same kind.
Flush: any 5 cards of the same suit, but not in order.
Straight: 5 cards in the right order, but not of the same suit.
Three of a kind: three cards of the same rank, the other two unrelated to them or each other.
Two pair: Two pairs (each card in the pair matching in rank), plus a side card.
Pair (One pair): two cards of the same rank, the other three being unrelated to them and each other.
High card: A hand which does not fall under any of the above mentioned. The greater ranking card is the highest card.
Online Poker Glossary
Act – when you play at the required time
Bet Max – betting the maximum amount of coins when playing
Big Blind – 'blinds' are forced bets, usually two. Big Blind is the larger of the two bets.
Call – is a match of either a bet or a raise.
Deuce  – (also duck, quack or swan) is a number two card, which acts as a Wild.
Donkey – (also known as a donk or a fish) is a weak player.
Exposed card: a card that has been accidentally or deliberately shown to other players at a time when it shouldn't have been.
Hole Cards – (also known as pocket cards) are cards that are lying face down.
Juice – all the money that is collected by the house.
Limit – the maximum or minimum amount of bets you are allowed to make on a particular game.
Multi-hand – a live video or online poker game where players are dealt more than one hand per round.
Open – when a player bets first
Paytable – a table where players can view a list of all the possible payouts of the game.
Progressive Jackpot – a game where each player's bet contributes a fraction of their wager to a common jackpot. The jackpot has no limit; keeps growing until a player wins it. These usually pay out in millions.
Wild – a card that can substitute other cards to complete a winning combination of cards.
Pair – two cards of the same value or rank.
Quads – (also known as four of a kind) is a hand with four cards of the same rank.
Rag – a low value or worthless card.
Shoe – a container for holding casino cards.
Up the ante: when you raise the stakes
Online Poker FAQs