Land-Based Casinos in Australia – Australia's Other Gambling Spots
Land-based Casinos have remained the holy grail of all things related to gambling. It is no doubt that online casinos have grabbed a lot of attention worldwide and even in Australia, but before this, modern gambling has been associated mostly with Land-Based Casinos. Even those who have never been to one have come into some contact with Land-Based Casinos through television or some other media. But many may still not know what really makes up a land-based casino.  You have come to right place if you are one of those people; Jackpots Casinos will take you through the history, facts, and list of Australia's best Land-Based Casinos.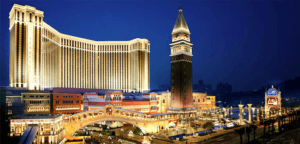 Recommended Australian Online Casinos
Land-Based Casinos – The history of modern gambling
Land-Based Casinos are best defined in contrast to the thing that lead to their name in the first place; online casinos. Now you can already see that this means there are casinos based over the internet, which also means there are those that are not. These were simply called 'casinos' before internet gambling became popular. They are traditional brick and mortar or house casinos we've seen so much of in Las Vegas movies for example. So for the sake of easy distinction, they are now referred to as Land-Based Casinos.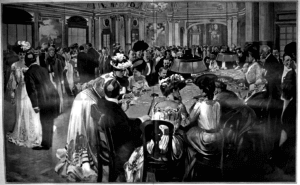 The history of gambling as a whole has been a little challenging to trace and pin down to any specific time or place. However, the common belief is that gambling has been a part of human society for as long as people have been interested in entertainment and sports activities. That can easily take us back to the Stone Age. The Chinese recorded their first gambling activities in 2300 BC, and records also show that ancient Greek and Romans also gambled.
The first Land-Based Casino
Casinos, on the other hand, are known to have begun around the 1600s, with the first known casino in the world, Casino di Venezia, being built in 1638 in Italy. This casino still operates today. The first legal casino to be built in Australia is the Wrest Point Hotel Casino in 1973, Tasmania.
Casino gambling has, however, gone through many stages of evolution. It has been banned, and then restricted to certain types of betting like Horseraces. Then it was legalized, opened up to allow other gambling activities and today it is simply regulated but legal for the most part. Australians have continued to enjoy games of chance, in and out of casinos, throughout this time and today, they still visit the land-based casino for their thrilling ambiance and social gaming.
The Pros and Cons of Gambling at Land-Based Casinos
Land-Based Casinos have pulled in a great deal of players over the years, making gambling a multi-million entertainment activity in many countries around the world. They have grown from big to huge to a point where places like the Vegas Strip are now a tourist attraction full of glitz and glamour. So what is it about brick and mortar casinos that have made them so popular? Let's consider the following:
Pros of Land-Based Casinos
The joy of playing in a social setting; playing against other players live, and being assisted by a real-life dealer, is exciting.
The buzzing and glamorous environment elude riches and fortunes, making it a thrilling and charming place for entertainment.
The experience also comes with a sense of adventure and holiday vacation, decorated by fancy drinks, lovely cuisine and other beautiful sights in and outside the casino.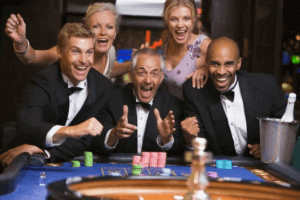 Cons of Land-Based Casinos
Playing at Land-Based Casinos is of course by far the most fun way to play your gambling games, offering an experience that no online or mobile casinos can offer. However, brick and mortar casino gaming has its downfalls.
You can only access the games from the casino. This means you need to travel to the casino for some gaming time.
The cost of land-based casino gambling goes well beyond just the bets. You need to budget for traveling to and from the casino, possibly lodging costs will factor in if the casino is far from home. Food and beverages, tipping the casino employees and other negligible costs also add to the list. So going to a land-based casino requires that you are financially ready for it.
Land-Based Casinos versus Online Casinos in Australia in 2017
Let's now consider the various factors that distinguish Land-Based Casinos from online casinos. We have already covered the fact that online casinos are accessed online through the great and glorious Internet, while Land-Based Casinos are physical house casinos located at a specific geographical place. This makes online casinos the perfect way to gamble for times when you just want that peace of mind and privacy during gameplay. Land-Based Casinos on the other hand, are good for providing an all-round entertainment experience beyond just the games.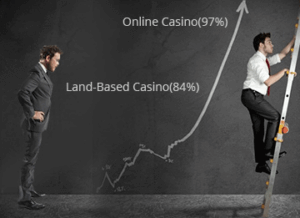 What else makes the two different and why would you consider playing at either one at any specific time?
Land-Based Casinos maintain the social and interactive aspect of gaming and gambling. You can play against other players, see their bets, interact with the dealer and even play other roles without necessarily betting like being a Craps shooter. Conversely, online casinos are private and secluded, giving you a stripped down version of gaming that is focused on the games themselves, which is a plus when looking to just win money.
Online casinos are also much faster in their gameplay because everything is computerized. The cards shuffle faster, the roulette wheel spins instantly, etc. while at land-based casinos things tend to be slower since it is mostly manually operated by another person.
More land-based and online casino differences
As mentioned before, Land-Based Casinos are more costly. The trip to the casino alone may come at a significant cost, and then added to it are the food, drinks, and accommodation. Online casinos, needless to say, are more economic. Since they are accessible from home, internet data is the only real cost to them other than the expected betting money you would have to spend.
Another difference worth mentioning is the bonuses and rewards. While land-based offer good welcome bonuses, which they use to bring in more players, in the form of free bonus credits after their first deposit, online casinos generally offer more than that. One can expect to receive a host of bonuses and rewards on online casinos, like deposit bonuses on specific games, free spins, loyalty points, promotional bonuses (daily, weekly and monthly) and tournament wins.
Other Factors to Keep In Mind about Land-Based Casinos in 2017
Payments and Currency
Always keep in mind the issue of currencies when looking to play at a land-based casino. This is because some casinos will accept some currencies only, which would require you to make currency exchanges prior to betting.
Accuracy
This in regards to the land-based casino's house edge and its consistency. You should know that any casino you play at will always have an advantage over you as a player in the long run. Find out the casino's house edge percentage and compare it to others.
Accessibility
Land-Based Casinos periodically do maintenance on their machines and equipment, and may also close some sections of the casino at specific times, affecting your ability to play some games. Knowing this information about your casino before making your trip is crucial.