Playtech Launched Robocop Slot Game
Playtech has launched a slot game that is based on the famous movie, Robocop.  This slot game narrates the story of Murphy, the robotic policeman. The robotic policeman swears to serve and protect the public. In addition, Robocop also vows to protect the innocent and support the law. For players that know Robocop from the movie, they will certainly enjoy the slot game. New players can also get to know and enjoy the likes of Robocop through this exciting casino game.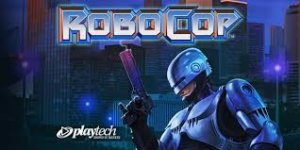 Playtech – Get to know Robocop
Robocop is a 1987 American science fiction superhero. The genre of this movie is adrenaline pumping action. It was written by Michael Miner and Edward Neumeier. The film was directed by Paul Verhoeven. It received positive feedback from the public all over the world. Some of the stars that played in the film were Ronny Cox, Nancy Allen, and Kurtwood Smith to name a few.
Playtech
Playtech is a leading casino software provider that is well known globally. Most players choose to play at Playtech casinos because of the quality they produce, giving players the best gambling experience possible.
Playtech – Robocop slot game
What makes Robocop a super awesome game to play is the media influence, corruption, greed capitalism and so much more that takes place in this movie. The film received amazing reviews and with flocks of people taking further action to view it. It was also named the best movie of 1987. The movie then had series, two sequels, animations, Robocop comic books and so much more that went along with the craze.
Honours for the film include two BAFTA Award nominations, five Saturn Awards and the Academy Award for Best Sound Editing. In addition, it received nominations for Best Sound Mixing and Best Film Editing.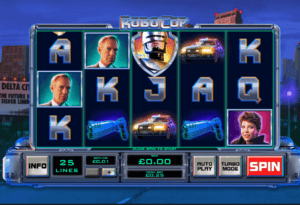 Playtech -More on Robocop Slot
Playtech has provided gamblers with a chance to bring justice to Detroit. Crime-fighting features have been added to the real money gaming and free play mode. For gamblers to receive a large payout, they must see the 3×3 ED-209 Wild that is on the reels. For players to accumulate more prizes they should break into the boardroom of OCP and track down the corrupt directors of the business. Additional wild symbols on the reels will give multipliers worth 5x assisting you in getting justice with the win that you deserve.