Hot As Hades Online Slot game- A quest Of Patience
Hot As Shades slot game is a blistering, mind blowing cartooned slot game that is set to keep you glued to your screen for a very long time. The game definitely brings out the adventure in you as well as revive your curiosity.
The game features 5 reels, 20 pay lines, and a multilevel interactive bonus game. With plenty of action and challenges that are enticing, this Microgaming powered online game will get you winning. You might find yourself sitting on the edge of your seat.
Hot As Hades Online Slot game – Features
Centering around the Greek mythology 'Hades' who is a God, this game is set in the underworld reminding us of Hercules the cartoon movie. The game also reminds you of many other stories we have seen on TV. When playing this game be prepared to see lava flowing, fire flaming, mythical creatures like the great Medusa, and Zeus the demigod and many other legends.
To give you a top -notch experience as a user the game features little animations occurring around the reels, great graphics, beautiful music and up to 20 free spins. Even if you not winning you get to have a little fun.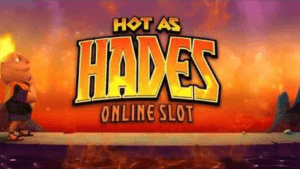 The online slot game has two bonus games. These are The Quest for The Crystal Helm and 5 Free Spins with Sticky Wilds. With these two games, there's constant action and with three spins from any of these two, you can win a huge lump sum at maximum bet.
To reach the bonus game there are three to five crystal helms. As you progress the player gets to choose the price and the same time. Making sure you do not get caught by any of the Gods of Olympus.
The levels you have to pick from are Pillars of awesomeness, Medusa 's Maze, Poseidon's Ocean. To add to the list also Zeus's Stairway and Chamber of The Crystal Skull.
To get a lively slot experience as the game does look very similar to hell boy slot game. Also as many other slot games. Should play the game on a maximum bet and be on the lookout for free spins. Most importantly make sure that you wear your adventure hat as well as be ready to laugh a lot.