Caesars Windsor Strike is finally over – casino and union reach a deal
The good news is that Caesars Windsor strike is over and they will reopen their doors on Thursday morning. This is after they have been out of business for over 60 days due to a strike by 2,000 of its members and Unifor Local 444 that is employed by the casino resort.
The walkout took place on 5th of April where union members turned down a new contract offer from the casino company. The property had to close all of its operations due to the union representing close to 87 percent of Caesars Windsor's 2,300 employee staff.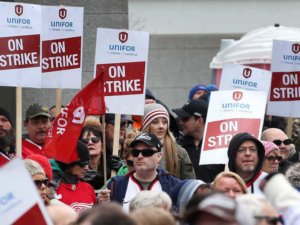 After more than 60 days the two sides have reached a three-year agreement that meets everyone's expectations.
"Caesars Windsor is happy to announce the labor disruption has been resolved," "We look forward to welcoming back our guests."; the casino posted on its social media platform.
Caesars Windsor Strike – Casino
The resort had to cancel and also reschedule a number of Colosseum shows. Acts that have been rescheduled include Pitbull (taking place on June 23), Blink-182 (taking place on September 18), and also Brian Wilson (taking place on November 25).
Caesars Windsor is the city's main tourist draw, and it also provides critical tax revenue to the government. Windsor's tourism office estimations of the city are out with over $1.5 million in lost tax money due to the strike that lasted two months.
New Labour Terms Revealed
However, Windsor Star has attained issued brochures to the union members regarding the contract. This was to inform them about the new terms prior to the member-wide union voting's.
The new contract says that Caesars Windsor will pay new employees a $1,600 signing bonus. Existing employees will get a general wage increase of $0.75 in one to two years. Moreover, they will also get a $0.25 increase in a year.  The new contract permits them  2,000 hours per year. The general wage increase bump on average will add about $3,500 more cash into the union members' pockets over the three-year period.
Caesars Windsor Strike – the union
After union members have rejected the two earlier proposals from Caesars. Unifor said that the latest offer received about 75% support. Caesars Entertainment, which is the parent company to Windsor casino that is based less than a mile from Detroit across the US-Canada border, also signed a deal in Las Vegas with Nevada's largest union that stopped the strike at eight of its gaming houses.
Conclusion
Dave Cassidy, Unifor President, said that he is confident that customers will return to Caesars. He went on to say that "customers know that Caesars Windsor is the way it is because of our membership. They're first class." Cassidy concluded that "Caesars Windsor is the brand, but our membership in the face. They give the best service. They're the best in the business."